The Navigator II float tube by Caddis Sports provides extra comfort and size in its "U" shaped design with four different bladders — two pontoon bladders, one backrest bladder and one "U" shaped bladder.
The perfect size for larger anglers, this float tube can comfortably support a weight capacity of up to 325 pounds.
All critical seams are double stitched for durability and pontoons measure a generous 58-inches in length.
The U-shaped bladder supports the backrest bladder for plenty of comfort and stability when seated for long periods of angling.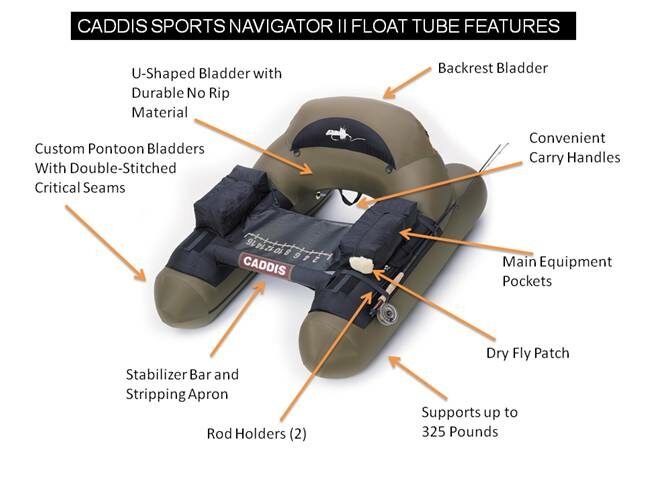 Caddis Navigator II Float Tube Features
COLOR: Olive / Black
DIMENSIONS: 57 inches L x 45 inches W x 27 inches H
WEIGHT DEFLATED: 15 pounds
WARRANTY: 2-Year Limited Manufacturer
58 inch long pontoons
Custom vinyl u-shape backrest and pontoon bladders
Double stitched on critical seams
Front and side rod holders
Lightweight design
Multiple D-Rings
Padded stabilizer bar
Ruled nylon stripping apron
Two main equipment pockets
This is a great float tube option for fishing or water fowl when you want to explore areas that are out of reach under normal conditions. Its also a great option for the big guy on small lakes that don't have boat landings.
It cleans easily, is very functional, easy to maneuver and the multiple air chambers provide superior comfort and control — it is lightweight yet rugged in its design.
Featured pricing has been determined by the supplier and not our belly boat review site.