This is a top of the line one man pontoon made by Classic Accessories. It is their "Colorado XT" model and is loaded with enough bells and whistles to make your on water experience the best.
Expertly engineered to address all the functions you need and the features most anglers want, this inflatable pontoon float tube is worthy of consideration.
In this review, we will detail what makes the "Colorado XT" special and will share the facts surrounding this pontoon boat ownership.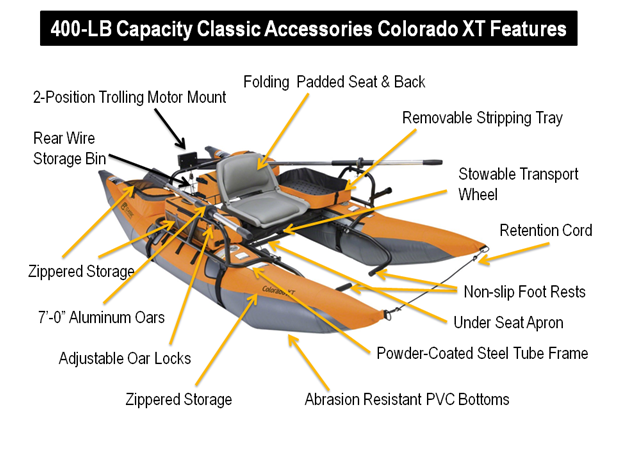 Colorado XT Pontoon Boat Features
From the detachable pockets, that combine to make your own gear bag, to the reel pockets and fly patches on each site of the boat, this portable pontoon is reliable, comfortable and engineered with heavy duty materials and construction to last.
Here are some of the top features this inflatable has to offer:
Enjoy two (2) insulating beverage holders and removable side pockets to customize your storage preferences. The side pockets can be combined to create a portable gear bag for storing items. There are 20 pockets total on this unit for all your accessories.
The Colorado has a removable stripping basket that you can attach to the side or use in an over-the-lap type attachment.
Enjoy a wire storage bin in the rear, behind the seat that doubles as a great battery platform for a trolling motor.
The front of the boat comes with a retention cord and two Carabineer clips.
A single rod holder is included and can be mounted in three different positions on each oar stand.
There is a rear trolling motor mount that has two position options.
This inflatable pontoon model comes with a transport wheel for moving your outfitted pontoon to convenient dry land locations. The wheel stows under the boat seat when not in use.
The padded, fold down plastic seat and backrest are adjustable as are the included non-slip foot rests to accommodate the height and comfort of the user.
Powder-coated heavy duty steel tube construction adds stability and control combined with 840-denier nylon on the pontoon tops and 1,100-denier nylon on pontoon bottoms for abrasion resistance.
Classic Accessories Colorado XT Facts
The facts associated with ownership of Classic Accessories "Colorado XT" model personal pontoon such as size, weight, assembly and maintenance, are just as important as its features so here's what you need to know:
OVERALL WEIGHT: 68 pounds dry
WEIGHT LIMIT: 400 pounds maximum INCLUDING motor and battery
ASSEMBLY: Classic Colorado XT Personal Pontoon Owners Manual HERE
RIVER RATED: Class 1
BOX DIMENSIONS: 47.5-inches long by 24.25-inches wide x 15.75-inches high
ASSEMBLED DIMENSIONS: 108-inches long by 56-inches wide by 26-inches high
PONTOONS: 9′-0″ Long
WARRANTY: 2-Year Limited Warranty to the original purchaser
COLOR: Pumpkin and Sage Combination
CERTIFICATE OF ORIGIN: Included with purchase for licensing
SAFETY: Labeled per ABYC Standard
A maximum recommended motor shaft length for trolling motors used on this model is 36-inches and this watercraft is NOT recommended for salt water use. Also, there is no pump provided for inflating.
Pricing for this inflatable fishing boat model has been determined by the supplier and not this review website. As of this writing, Amazon is offering an additional 10 percent discount on top of their listed price that is 31 percent below retail.