This sturdy steel frame pontoon-style belly boat from Outcast, Model 200-F00120, provides a balanced combination of size, features and mobility for serious anglers who enjoy fishing lakes, rivers and streams.
The steel frame lets you load lots of gear and ensures you can navigate to the best water to drop your line. It weighs just 70 pounds and measures 9 feet in length by 54 inches wide.
The two (2) Aire Chambers are sixteen (16) inches in diameter and are covered with 1000 Denier fabric which is a heavy weight PVC with urethane coating that makes it very abrasion resistant and gives it exceptional tear strength. All seams are welded for superior durability.
The Fish Cat 9 IR craft delivers dependable flotation and dexterity with a maximum load capacity of 375 lbs. and is equipped with proven Summit 2 one-way inflation valves, plus factory-installed D-rings for extra gear.
It can easily accommodate electric trolling motors with a maximum thrust of 30 pounds and a maximum shaft length of 36 inches.
Pontoon versus Float Tube
PROS:
Great in rivers
Cover more water with oars
Nice on windy days when rowing
Hands free mobility with fins
Sit higher in comfort
More room for on-board storage than float tube
Easy with anchor system on lakes and rivers
CONS:
Need more room to store pontoons and frame than float tube
Less portable at 60+ pounds
Frames, material make pontoons more expensive than float tubes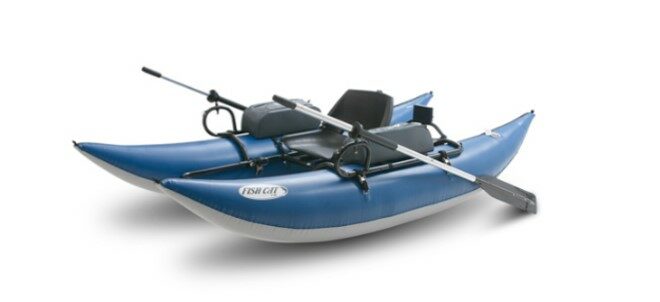 Its dual AIREcells keep the Fish Cat 9 afloat, while a durable PVC outer material protects the pontoon from abrasion and punctures at any loading dock or rocky shoreline.
The Model 200-F00120 comes with a steel frame, paddle, seat, and two gear storage compartments for all of your angling accessories. Fish Cat even put a mesh storage area behind the seat for large tackle boxes or a battery for a small electric trolling motor that can be attached to the rear block.
Outcast Warranty
Outcast provides a five (5) year limited warranty on the Fish Cat 9 IR that covers against manufacturing defects in materials and workmanship. This warranty covers the tubes, D-ring patches, AIREcells, valves and zippers to be functional and water worthy.
Their 5-year limited warranty does not cover the frame, damage caused by normal boat use, cosmetic wear, excessive UV damage, abnormal abuse, neglect and/or inappropriate storage. This warranty can be voided if the boat is structurally altered or used commercially.
Warranty begins at the original purchase date and continues for a period of five years.