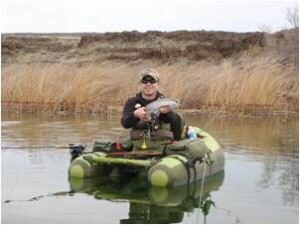 Get access to water previously out of reach with the best belly boat — the finest in float tube fishing for any boatless anglers.
Welcome to https://bestbellyboat.com where we will give you an overview of the top belly boats for float tube fishing and provide you the resources for getting the most out of your experience.
There's no need to be shore bound when, for as little as $100.00 and a good pair of float tube fins, you can reach that spot-on-spot location where those prized bass are lurking in the shallows or water fowl in the reeds.
How would you like to get up close and personal with skimmers, emerging flies and other lake life while floating freely, comfortably in water otherwise over your head?
While bottom waders are great for delivering 100% waterproof protection and a shield from the chill of lake or river waters, fishing from a float tube gives you the ability to become highly lake mobile.
What is Belly Boat Fishing?
Top 12 Reasons for Owning a Belly Boat
Here are 12 great reasons why you can substantially enhance your angling experience by adding a belly boat or float tube to your fishing gear. Choose from affordable brands like Caddis Sports, The Creek Company and Classic Accessories reviewed here.
Easily navigate "no motor" waters and no motor to drown out the banter from your float tube flotilla
Access key lake spots unattainable in waders
Float freely while enjoying comfort and back support
No need to leave extra gear like a cooler, dry bag, pump or depth finder, on shore
Get up close to nature with water-life mere inches from your view
Fairly light-weight and back packable for easy transport
Easily fits, inflated, in the back of a pickup truck or SUV
More economical than owning a boat, motor and trailer
Get to where the birds are in hard to reach waterfowling hotspots
Store emergency items and essentials in waterproof side and back pockets
Ride high for improved visibility and casting range without sacrificing stability when compared to waders
Stay warmer in chilly water
Belly Boat Model Types
If you enjoy a relaxed pace and still waters when fishing or waterfowling, a float tube may be the answer. Here are the different styles of belly boats to help you make the right selection.
| | STYLE | DESCRIPTION |
| --- | --- | --- |
| | ROUND | This is a traditional design best suited to beginner float fishing anglers. Contoured seating and a wraparound-like enclosure adds a feeling of security. Virtually impossible to slip out of, it offers the comfort of elbow and back support. |
| | U-SHAPE | Stadium-type padded seating lets the user rider high out of the water for better visibility in navigating small lakes and ponds. A stabilizing bar is just one of the features included to secure an otherwise open front. |
| | HYDRODYNAMIC | These are a pontoon-style belly boat and a hybrid version including features of the other two types of float tubes. Cutting through water is enhanced by the V-shaped design and higher seating means staying warmer with better sight for fishing and waterfowling. |
| | | |